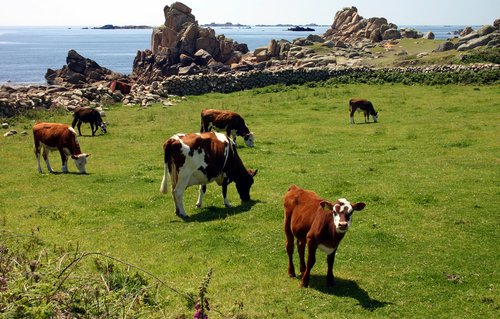 --trends + business + politics--

A calculator has been developed to help consumers, dairy farmers, and food companies estimate the avoided environmental, public health, and animal welfare impacts associated with shifting dairy cows from conventional to organic management. The "avoided impacts" stemming from applications of synthetic nitrogen fertilizer, herbicides and insecticides, and several classes of animal drugs can now be estimated for a single milking cow, a given herd of milking animals, across all cows in a region or all farms shipping to a given dairy processing company, or even for a gallon of milk. The design of the calculator, equations within it, and data sources are described in the Organic Center report "Shades of Green: Quantifying the Benefits of Organic Dairy Production."
There were about 120,000 milking cows on organic dairy farms in 2008 that followed USDA organic certification guidelines. According to the Organic Center, organic milk production in the U.S. avoided some 40 million pounds of fertilizer in 2008. The 761,000 acres of organic feed cropland or organic pasture also dodged the use of 758,000 pounds of pesticides. Cows also given 1.7 million fewer drug treatments, including antibiotics and hormones.
The group hopes the Microsoft Excel-based calculator will be used by consumers, farmers and food companies to estimate the environmental impacts avoided by shifting dairy cows from conventional to organic management practices. It can estimate the impacts from fertilizers, insecticides, herbicides and animal drugs for a gallon of milk, a single milking cow or a herd, and by region.
"This calculator gives us the means to uniformly measure the extent to which organic dairy operations prevent toxic materials from entering our air, water, soil, and in some cases, our food and drinking water," Charles Benbrook, the Organic Center's chief scientist, said in a statement.
For more information visit
www.organic-center.org
, or call 303.499.1840.